Custom Die Cutting Since 1967

For over 46  years, Metro Industries has specialized in steel rule die cutting parts for a
wide variety of industries.   We have automated presses that can efficiently stamp out hundreds of thousands of tiny die cut parts, as well as very large machines capable of die cutting parts that take two or three people just to handle each one, and rotary die cutting and punching for continuous length strip gaskets (like tank stripping).
Die Cutting Presses
Almost all die cutting can be done on several types of presses, but often at a cost of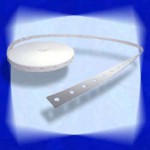 additional labor and/or material waste.  With an array of press types and sizes having bed sizes up to 24″ x 72″ and generating up to 75 tons, MI is equipped to efficiently handle most die cutting requirements by truly matching each job to the type and size of press best suited to the task.
40 Ton Automated Hydraulic Punch Press 12″

x 12″ Cutting Area

20 Ton Automated Hydraulic Punch Press 12″ x 20″ Cutting Area

60 Ton Mechanical Punch Press 18″ x 24″ Cutting Area

75 Ton Mechanical Punch Press 24″ x 36″ Cutting Area

(2x) 30 Ton Hydraulic Swing Arm Clicker Presses 18″ x 30″ Cutting Area

60 Ton Hydraulic Beam Clicker Press 24″ x 72″ Cutting Area
Steel Rule Die Cutting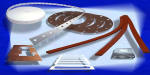 With over 10,000 dies and various types of presses ranging from 20 to 75 tons, MI can efficiently die cut intricate parts smaller than a pencil eraser as well as gaskets spanning 8 feet or more.  Steel rule dies are economical, minimum quantities are generally low, and they can easily be adapted to easy-setup clicker presses for large parts and/or low quantities as well as automated punch presses for higher volume requirements.  Non-recurring steel rule die tooling costs, where applicable, begin around $75 and average around $140.
You May Also Like: